Hi all! I saw this book tag over on Bookmark Your Thoughts and thought it was awesome so I decided to do one of my own. I absolutely love beautiful book covers, some are truly a work of art, and I am not ashamed to say that I have bought books before, just for their covers.
The Rules
Thank the lovely person who tagged you, spread the love. (I wasn't actually tagged, but thank you Bookmark Your Thoughts!)
Mention Tiana @ The Book Raven as the creator of this book tag.
Use the original tag image in your post. (However, feel free to add whatever other graphics your heart desires.)
At least tag 1 fellow blogger for this tag.
List the rules.
---
Not in Ideas but in Things
A BOOK COVER THAT PERFECTLY EXPRESSES THE NOVEL INSIDE IT
The cover of The Left Hand of Darkness by Ursula K. Le Guin is stark, beautiful, devastating, grueling, cruel, and cold (after all, the book does take place on a planet called Winter). The story contained within is all of these things and more.
---
Dark and Lovely
A BOOK COVER THAT IS SO CREEPALICIOUS YOU JUST WANT TO EAT IT UP
That mask on the hardcover edition of A Face Like Glass by Frances Hardinge…super creepy.
---
Sugar Sweet
A CUTE COVER THAT IS SO FLUFFY YOU WANT TO GIVE IT A HUG
The Tea Dragon Society by Katie O'Neill just makes me squee.
---
The Simplistic Aesthetic
A BOOK COVER THAT STUNS WITH THE MOST MINIMALISTIC OF DESIGN
Vicious by V. E. Schwab has one of the simplest but most stunning covers I have ever seen.
---
Cover Envy
A BOOK COVER YOU WISH YOU HAD ON YOUR SHELVES, BUT DON'T YET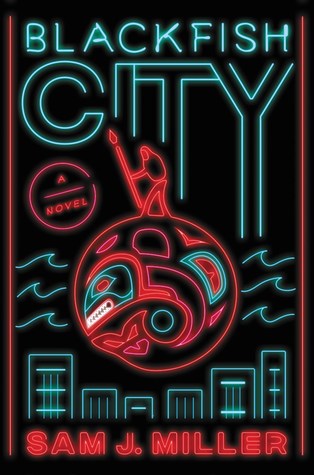 I love the neon effect in the cover of Blackfish City by Sam J. Miller.
---
Traveling Abroad
A BEAUTIFUL BOOK COVER FEATURING A COUNTRY OUTSIDE OF YOUR OWN
Most of the books I read don't take place in my country, but City of Brass by S. A. Chakraborty takes place in a place very different from where I live, and the cover is absolutely stunning.
---
The Colour Wheel
A COVER THAT SHOWCASES ONE OF YOUR FAVOURITE COLORS
Teal/aqua is my favorite color, and teal combined with red is my favorite color combination. So, Condomnauts by Yoss is one of my all time favorite covers, for the content as well as the colors.
---
Switching Gears
A COVER CHANGE THAT YOU ABSOLUTELY ADORE
Snow Crash by Neal Stephenson went from this…(meh)
to this…(OMG that is gorgeous!!!)
I actually already owned the first copy shown, but when the new cover came out, I had to buy it. I mean, just look at it!
---
Oldie but Goodie
A FAVORITE BOOK COVER OF YOUR FAVORITE CLASSIC
Dune by Frank Herbert is considered a classic now right? Anyway, there have been many copies of Dune printed, but this cover is one of my favorites, because I like how the silhouette is of a worm. My other favorite Dune cover is this:
---
And the winner is…
WHICH COVER MENTIONED ABOVE IS YOUR FAVORITE?
It was hard to pick, but I think (right now anyway) that this cover of Snow Crash is my favorite from the above list.
---
Tag! You're It!
I tag Emily @Embuhleeliest!