A blog I follow, Kristen @KristenKravesBooks, did this book tag awhile back and, though I wasn't tagged, I though it was fun so decided to do one of my own. Several words on the list were new to me, and I always love learning new words.
---
The Rules
Thank the person who tagged you
Pingback Bookmark Your Thoughts' original post so I can see your lovely answers!
Pingback the person who tagged you so they can see the post.
Bonus: If you wish to, tag at least three people to do this tag.
Fair warning: There are spoilers ahead.
---
Effulgent | Brilliantly radiant
A BOOK WITH A BEAUTIFUL COVER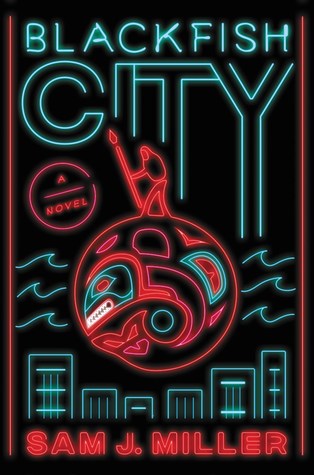 Blackfish City by Sam J. Miller 
I absolutely love how this cover looks like it is made of neon. This is a book that I would buy just for the cover, but the story sounds interesting too. It is about a woman, an orcamancer with a polar bear squire, saving a city (possibly the last remaining city?) after something called the climate wars. I mean, the book blurb had me at "orcamancer".
Metanoia | The journey of changing one's mind, heart, self, or way of life
A CHARACTER WHO GOES THROUGH A MAJOR TRANSFORMATION
Senlin Ascends by Josiah Bancroft
Hoo boy. Thomas Senlin goes through some pretty radical changes in the course of searching for his wife in the Tower of Babel. Each Ringdom of the Tower is so different from the one before, that Senlin has to constantly adapt and change in order to not only survive, but advance his way through the tower. The biggest change is possibly his sugar-coated ideas about the Tower. As the reader, you can tell it is difficult for Senlin to let go of his preconceived notions about the Tower, since he hangs on to them for so long. But eventually he does let go of his idyllic mindset of the Tower, and views it for what it really is.
Sockdolager | Decisive retort; mic drop
A CHARACTER WHO ALWAYS HAS A GOOD COMEBACK
Heir to the Shadows by Anne Bishop
I like sassy characters, but I hardly ever read stories about them. Probably the sassiest character I have come across, who almost always has a good comeback, is Karla. She is a side character in the series, but she is definitely one of the most memorable.
Sesquipedalian | Containing many syllables; long winded
THE LONGEST BOOK YOU'VE READ
The Pillars of the Earth by Ken Follett
For this one I decide to pick the longest single novel, since I have read anthologies and series that were longer. (I have also read Shogun which is 1152 pages long, but since I can't actually remember if I finished that book or not, I decided I couldn't count it.) This version of The Pillars of the Earth is 1006 pages long. I remember peeking ahead a lot while reading this book (something I don't usually do) since I go so frustrated with the characters and their choices.
Ephemeral | Lasting for a very short time
THE SHORTEST BOOK YOU'VE READ
One for Himself by Odessa Lynne
According to My Year in Books on Goodreads, this is the shortest book I read at 23 pages. I know I have read picture books that were shorter…maybe they don't count?
Serenity | The state of being calm, peaceful, and untroubled
A BOOK THAT MAKES YOU FEEL CALM AND HAPPY
Tournament of Losers by Megan Derr
This is my happy book. I can't even tell you how many times I have read it.
Oblivion | The state of being unaware of what's happening around you
A NOVEL WITH A COMPLEX PLOT
The 7½ Deaths of Evelyn Hardcastle by Stuart Turton
This was my review of the book on Goodreads:
4.5 Stars.
First of all, I have no clue how the author kept all of the plot threads straight in this book. While reading, I was constantly flipping back and forth, trying to connect plot points. I felt like one of those conspiracy theorists that have a wall full of tacked up paper and string, like so:
The whodunit was also interesting, and I really liked the moral questions raised. However, the book lost half a star because the very end was…cheesy. Now, that is not to say that I dislike lighthearted, cheesy endings, but considering the tone of the rest of the book and how absolutely brilliant it was…I guess I just expected more. Or another twist. Something.
Anyway, just because the very end was a bit of a let down (for me) should not discourage anyone from reading this book. Because it is awesome, and totally worth it. So yeah, read it.
Rantipole | To be wild and reckless
A RECKLESS CHARACTER
Magic's Pawn by Mercedes Lackey
Tylendel is a secondary character in this book. He may be young, and the young are often reckless, but his recklessness gets him killed so…that is why I chose him for this prompt.
Nefarious | Wicked, villainous, despicable
YOUR FAVOURITE VILLAIN
Hannibal Lecter
Ok, so, not a book. But hands down one of my favorite villains of all time is Hannibal Lecter as portrayed by Mads Mikkelsen in the TV series Hannibal.
Ineffable | Too great to be expressed in words
YOUR FAVOURITE BOOK OR BOOK SERIES
This is an impossible prompt since I have many favorites and I am always going to be adding new ones to the list as I continue to read. Seriously, whoever wrote this prompt was high. If you want an idea of my favorites, you can go here to my Goodreads favorites shelf. They are not in any sort of order, and I am sure I am missing books. Notably, I have added 5 to the list this year alone. The are as follows (in no particular order):
Interestingly, I discovered this year that a favorite genre of mine is New Weird (and old weird too I guess since I like H. P. Lovecraft's stories). I plan to read many more books from that genre in 2019.
Trouvaille | Something lovely discovered by chance
A BOOK YOU DIDN'T EXPECT TO LOVE
Dune by Frank Herbert
I had to read this for school a million years ago, and at the time I wasn't really into science fiction books. I was pretty much exclusively into fantasy, so I wasn't sure if I was going to enjoy this book or not. Well, lemme tell ya, this book was one heck of a wild ride and I absolutely adore it to this day.
Nostalgia | A wistful desire to return in thought to a former time in one's life
A BOOK OR CHARACTER THAT MAKES YOU FEEL NOSTALGIC
Again this is not a book, but man was the nostalgia strong with this one. I remember being a kid like the ones in the show and basically having free range of the neighborhood. It was great.
---
That's it! I'm not going to tag anyone specific, but if you liked this tag and want to do one of your own, have at it!